&nbsp 3 min
This is a question that is often asked by both men and women. Women do so to seek happiness, and me—to see how they can make their own wives happy.
What is the key to a woman's happiness?
How can men satisfy their partners? The mission of every woman is to love and be loved—to feel noticed and appreciated by her loved ones.
The mission of every man is to achieve his goals.
Men should quit seeking validation from women; the desire to receive validation from women often stems from the man's (unhappy) childhood. All children desire to receive validation by their mothers. Men should distinguish right from wrong. We, as humans, have an inherent sense of good and evil. Men should also have faith in themselves. Women trust men who are confident and self-assured. No woman would let a unrespectable, insecure man lead her forward.
Women are also tasked with the mission to continue their kin. Therefore, women should collect as much love as possible, including self-love and love towards the men in her life. The more love women carry within, the more love these women can give to the world—an ability which, of course, helps them find worthy partners.
How can you become a happy woman?
Be truthful. Express your feelings. Let your partner in and allow him to understand how you feel. Ask yourselves different questions. Ask, for example, "How am I feeling today?" and share the answer with your partner. If you do it honestly, your partner will learn more about you. This is how you can feel happier, understood, and more secure.
Indulge yourself! We often say that there will come a day when we can buy the clothes, makeup, and plane tickets we desire… Don't wait for that day to come! Do it now! You deserve it.
Have fun. Do something you enjoy. Laugh out loud every day. Communicate with people who make you laugh. Watch comedies. Look at life from the bright side!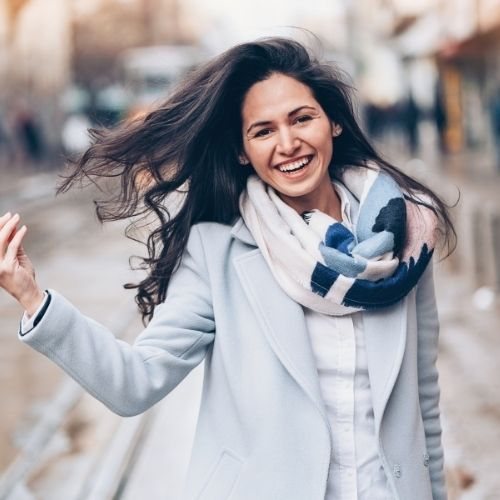 Be in love. If you do not have a romantic partner, then fall in love with life or yourself. Look around and find what (or whom!) you'd want to be in love with. Notice the love around you. Declare your love our loud—to yourself, to your family, to your friends!
Be creative. Bin the things you do not need and allow creativity and peace to enter your life. Find some things you have not used in the last two years and gift them. Realize which friends of yours are pulling you back; end those relationships. Remember all the unkept promises you made; if you know you cannot fulfil them, speak with the people you made them to and let them know.
Have faith! Know this is all possible. The Universe is far more generous than you think it is! Pray with open palms. The Universe will give you what you need. Say your soul's longings out loud and allow them to materialize in your life. Happiness is always there for us! We've just got to notice it. Feel happy, loved, and beautiful!
To obtain the happiness you so deeply desire, join the online course "Marathon Femininity Nature."
Love,
Natalia Kobylkina
Psychologist, family therapist, author
Subscribe to my channel for more interesting videos, articles, and updates.
[ap_button button_size="ap-small-bttn" button_target="_blank" button_url="https://www.facebook.com/nataliakobylkinainternational/" button_type="ap-outline-bttn" button_color="ap-default-bttn" button_align="ap-align-left"]Follow me on Facebook[/ap_button]
[ap_button button_size="ap-small-bttn" button_target="_blank" button_url="https://www.instagram.com/_nataliakobylkina_/" button_type="ap-outline-bttn" button_color="ap-default-bttn" button_align="ap-align-left"]Find me on Instagram[/ap_button]
[ap_button button_size="ap-small-bttn" button_target="_blank" button_url="https://www.youtube.com/c/Kobylkina" button_type="ap-outline-bttn" button_color="ap-default-bttn" button_align="ap-align-left"]Watch me on YouTube[/ap_button]